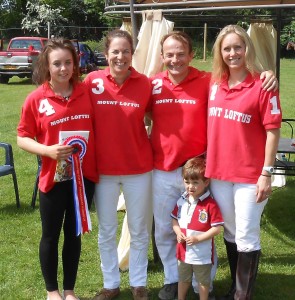 My Husband and I have enjoyed many polo holidays with Kim and Carlito in their Argentinean base in Mar del Plata. We have had wonderful holidays there not only packed with great polo and polo tuition, but also have enjoyed immensely all the other opportunities that Mar del Plata offers.
The mornings are spent stick and balling / having lessons at the club with Carlito and other professionals . Another favourite morning activity is taking the horses to the near by quiet beach where you can gallop through the breaking waves. After a lovely lunch and a siesta, its time for chukkas to put all the new skills into practise. Its basically polo till you drop, if you want it to be.
On our first holiday with Kim and Carlito my husband was a non rider and I was not much better. Within a few years I went to zero goals and on every holiday (whatever our ability at the time)  Carlito has been able to provide us with a great sting of horses for us to play and has given us excellent tuition to take us to the next level.
In the evenings we tend to go out and have dinner at one of the many great restaurants in Mar del Plata. Of course there is amazing steak but being a sea side town with a good fishing fleet there are also some wonderful fish restaurants to make a break from all the red meat (if you need one). Outside of polo if you fancy a few hours off there is good shopping as well as many other things to do in the main town and of course their is the main Mar del Plata beach and promenade.
We missed going to Mar del Plata last year following the birth of our second child but are already looking forward to our return visit  (this time will all the family) later this year.
Catherine & Malcolm