HAC Veterans v Grenadier Guards Veterans
June 15, 2013 @ 8:00 am

-

5:00 pm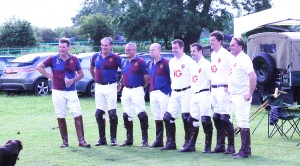 The weekend saw the newly created HAC Veterans team play their first ever match against the Grenadier Guards Veterans.
Playing against an experienced -3 handicap Guards team were no.1 Ben Loxton-Edwards (-2), no.2 Justin Roberts (-2), no.3 Stuart Atkinson (-2) and no.4 Marcos Vivian (-1).
The glorious British summer was in full force with driving rain up to 30 minutes before the start of the match as the HAC team agreed a defensive strategy against the strong Guards team. Justin Roberts playing in his first ever match seemed more perturbed by how much his new helmet had cost him.
The weather gods relented and the match commenced in fine sunshine with a 2.5 goal handicap advantage to the HAC. The first two chukkas were a closely fought affair with the HAC defensive strategy preventing any score by the Guards team.
The third chukka saw the experience of the Guards team come to the fore and the Guards made the breakthrough with some well taken penalties by Nick Swift and strong play to score 3 goals.
The final chukka saw 2 further goals for the Guards against some valiant defending from the HAC to end the match with the final score HAC V 2.5 – Grenadier Guards V 5.
Thanks must go to Kim and her team at Carlitos Polo club for a fabulous Argentinian barbecue after the match for the players and their guests.
HAC Veterans v Grenadier Guards Veterans, 15th June 2013, Carlitos Polo Club http://t.co/rOVRoqkpRr

— HAC Polo Team (@HACPolo) June 19, 2013